How Do I Become A Food Justice Advocate?
A panel featuring distinguished alumni in the field.
Wed, 18 March, 2015
6:00pm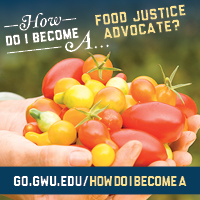 This year first year students read The Good Food Revolution, by Will Allen through GW's First Chapter Program. Focused on food justice, sustainability, urban development and agricultural policies, this book touched on food education and urban farming. Whether or not you have read this book, we encourage you to join us for an interactive panel discussion with GW alumni who are now active in this career field. 
This event is open to all students and GW alumni and co-sponsored with the GW First Chapter Program. Please register your attendance in advance; space is limited.  
PANELISTS:
Jeffrey O'Hara, CCAS BS '00, Agricultural Economist (Food & Environment Program), Union of Concerned Scientists
Marni Karlin, ESIA BA '98, Vice President of Government Affairs and General Council at Organic Trade Association
Tom McDougall, GWSB BBA '07, Founder of 4P Foods - A Benefit Corporation (Purpose, People, Planet, Profit)
Caroline Smith (moderator), Associate Professor of Writing & Deputy Director of the First-Year Program