Solutions through Film: Plant Seeds, Cultivate Justice
A Black History Month Film Event
Sat, 21 February, 2015
1:00pm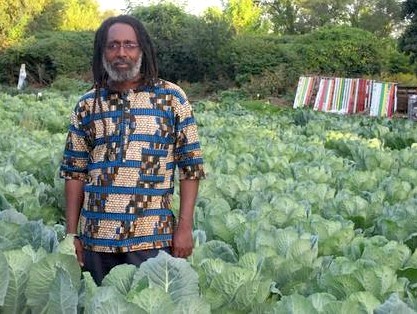 Sponsored by GWU's First Chapter, the University Writing Program, and Men Can Stop Rape 
Please join GW's First Chapter and Men Can Stop Rape to explore the food justice movement as a site of anti-racist work, youth empowerment, and community transformation, with:
a keynote by visionary food justice leader Malik Yakini, appearing in our feature film
a screening of the documentary Urban Roots featuring Yakini and other Detroit food justice leaders
a panel discussion by DC-area high school students, led by GW student Adam Middleton

a

reception

with light refreshments and opportunities to connect with GW student organizations doing work in food justice and racial empowerment 
Malik Yakini "plant[s] seeds of consciousness at the same time that we're planting seeds that will grow into fruits and vegetables." He founded D-Town Farm and the Detroit Black Community Food Security Network, and serves as the Network's Executive Director; he chairs the Detroit Food Policy Council; and he received a James Beard Leadership Foundation award.
"Urban Roots is an inspiring film about the emergence of urban farming in Detroit; it shows what's possible after the collapse of the industrial era and how we begin building a sustainable future for all."  -- Leonardo DiCaprio 
Men Can Stop Rape is a DC-based national nonprofit mobilizing men to use their strength for creating cultures free from violence, especially men's violence against women. They are leaders in the international movement to promote healthy masculinity, and oversee DC high school Men of Strength (MOST) and Women Inspiring Strength and Empowerment (WISE) Clubs.
Adam Middleton is a former MOST Club member and current Editor-in-Chief of the GWU Black Student Union's ACE Magazine.
Open to the public.